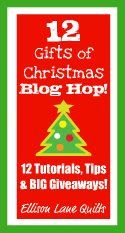 I know—I just posted about a Halloween quilt. And it was like 72 degrees yesterday here in Wisconsin. So it's not feeling much like Christmas around here just yet. But if you guys are anything like me, you probably wait until, oh, December 15-ish to suddenly decide that you need to make handmade gifts for every friend and family member in your life. (Remember my potholder-palooza last year?) Then you just end up a giant ball of stress and you pull out all your hair in frustration and you look like you got hit by a UPS truck in your holiday pictures. Nobody wants that. So, October? Totally not too early to start thinking about handmade gifts. It may seem early, but take it from a procrastinator—it's not.
So I'm super excited to tell you that the "12 Gifts of Christmas" blog hop, organized by Jennifer of Ellison Lane Quilts, kicks off tomorrow! It's 12 days of tutorials, tips, and gift-making tricks that you won't want to miss. I will be sharing one of those 12 gifts with you, along with 11 other amazingly talented bloggers.

And that's not all—there are prizes! There will be 12 giveaways—one at every stop on the hop—from sponsors such as Pink Castle Fabrics, Fabricworm, and the Fat Quarter Shop. And you guys, the grand prize is a $250 gift certificate from Fabricworm! I'm only sorry that I'm not eligible! Fabricworm is also offering a 15% discount for blog-hop readers while the hop is running.

So join us starting tomorrow with our hostess, Jennifer of Ellison Lane. Thanks, Jennifer, for putting together such a fun hop. Let the gift-making begin!

Friday, October 14- Jennifer @ Ellison Lane Quilts
Saturday, October 15- Ayumi/Pink Penguin
Sunday, October 16- Amy/ Lots of Pink Here
Monday, October 17- Faith/Fresh Lemons Quilts
Tuesday, October 18- Penny/Sew Take a Hike
Wednesday, October 19- Kati/From the Blue Chair
Thursday, October 20- Lee/Freshly Pieced
Friday, October 21- Elizabeth/Don't Call Me Betsy
Saturday, October 22- Melanie/Texas Freckles
Sunday, October 23- Lindsay/Craft Buds
Monday, October 24- Amanda/A Crafty Fox
Tuesday, October 25-Vanessa/Little Big Girl Studio